"All the business savvy you need wrapped up in a cute little cover!"
The Award Winning Complete Library of Entrepreneurial Wisdom is a treasure trove of knowledge and experience to help you dodge the slings and arrows of costly business challenges we all face. With over 30 years experience in multiple fields of expertise and businesses Ginger Marks shares with you what has helped her survive and flourish in all the ups and downs the business community and economy have endured.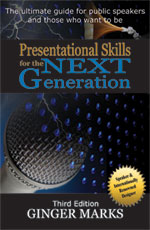 The author of Presentational Skills for the Next Generation and the annual Weird & Wacky Holiday Marketing Guide: Your calendar of marketing ideas brings all her business savvy together in her latest work, Complete Library of Entrepreneurial Wisdom.
Having owned and operated businesses that vary from a surgical clinic to pressure washing, restaurant, and even MLMs, the knowledge and expertise in this book will help you navigate the road to your business success. Not only will you find pertinent information for your on-line business, but you'll also find business focused articles for your off-line entrepreneurial endeavor.
With over 150 articles covering everything from growing as an entrepreneur to designing your marketing pieces, this is a 'must have' for your business success library!
Now available in Kindle, ePub, PDF, and Print; the latter two editions include a topical index to help you easily find the topic you want and need.
Get Your Hardcover Print Edition!

or click the button at the top of this page to find the links to all the available versions.
Just look at what savvy entrepreneurs are saying about this book . . .
What you'll find inside
Inside the covers of this important collection of articles you will find a plethora of entrepreneurial wisdom spanning topics pertinent to the novice and experienced business owner alike. To make it easy for you to find the information you need at any particular time in your entrepreneurial walk Ginger has included topical sections and an Index.
Here's a quick peak some at the sage advice you'll find within.
Business - Sample Content
Let's Talk Turkey
Consistency is the Key
The Golden Rule of Business Ownership
Hiccups
Dispute Resolution: How to Get Positive Results
Marketing - Sample Content
How to Ensure Customer Loyalty
Are You a Landmine Or a Goldmine?
Contagious Influence
How to Overcome Your Fear of Marketing?
The Secret of Setting up a Successful Rebate / Rewards / Incentive Program
Design - Sample Content
Marketing Mechanics
Color Psychology: How to Use It to Your Advantage
22 Design Tips for the Non-Designer
Creating Presentations that Work
Customer Sign-up Forms, Does Yours Do the Job?
Writing - Sample Content
Article Marketing: Seven Ways to Improve Your Article Marketing Skill
What You Say Is As Important As How You Say It
How to Pen the Perfect Book Author Bio
7 Simple Steps to Book Marketing
Convert Your Articles to Marketing Magnets
Life Reflections - Sample Content
A Vote for Confidence
Two + Baby = Romance? Keeping Romance Alive
Motivation: Staying On the Right Track
Family Emergency Planning
Give Yourself a Round of Applause
. . . and all this terrific information and more is followed up with a section titled Article Series.
Article Series - Sample Content
Back To Basics
Get Into Them
Commit
Balance vs. Drive: What I Want vs. What I Can Do
Seven Deadly Sins of Goal Setting
Download your copy today and begin saving yourself the time and frustration of learning the hard way how to and how NOT to run your business!

Click the images below to get your copy now!